Mining the 2016 draft CMS SNF Regulations for LTPAC Medical gems
May 18th, 2015
by
Today's blog focuses on CMS data and quality initiatives which can help us better manage LTPAC Medical practices.
CMS's regulatory cycle for institutions follows the federal fiscal year (Oct – Sept).  The Physician/Part B program follows the calendar year.  This provides a window of time for medical groups to identify opportunities and challenges that are likely to arise when serving SNF residents.  FY 2016 has a bumper crop of changes, many of which intersect with the major challenges facing LTPAC Medical Groups – population appropriate quality measures, rehospitalization rates, and cost comparisons.
LTPAC Medical groups, nursing facilities, and other LTC service providers, care for the country's most costly publically insured population.  All of our work is governed by a complex of federal and state regulations.  To date, the regulations for LTC Facilities/Institutions do not align with those for Medicine and other Part B providers.  This misalignment is growing in severity, secondary to performance based penalties being assessed on all providers for poor quality and high cost.  LTPAC Physicians face additional penalties for failing to demonstrate EHR Meaningful Use, a difficult task in SNF/NF settings.
There is some cause for hope that CMS is beginning to align the different regulatory structures for the Part A, Part B, and EHR/HIT programs.  The first inkling came with the publication (open for comment) of modifications to the current EHR Certification Criteria (a/k/a 2015 Edition Health Information Technology (Health IT) Certification Criteria, 2015 Edition Base Electronic Health Record (EHR) Definition, and ONC Health IT Certification Program Modifications).  These draft rules propose a Certification Track for LTPAC HIT software, which may enable Physicians to realistically achieve Meaningful Use in the Nursing Facility.
I recently attended a CMS/ONC Listening Session – where agency staff were looking for strategies to implement and promote the use of eCarePlans in the LTPAC arena.  Other CMS staff have engaged in discussions about defining eCQMs for CEHRT that align with the IMPACT Assessment. Does this imply the presence of some larger plan?
So what's in the draft CMS SNF regulations that is important to LTPAC Medicine?  Plenty.
The #1 threat to LTPAC Medical Practices is improper Cost and Quality Benchmarking under VBP.  At a minimum 4% of every groups' Medicare Part B revenue is at risk.  We know from reviewing multiple QRUR[i] reports that LTPAC groups have extremely high costs and poor quality – based on the administrative measures.
What is an Administrative Quality or Cost Measure? – these are measures CMS calculates from their 'paid claims' database. For example, a medical group, or SNF's, 30 day risk adjusted all-cause rehospitalization rate is calculated from claims history.  If the patient is attributed to the provider under VBP, rehospitalizations rates come from CMS independent of any additional reporting by the physician or provider.  The same holds true for risk adjusted beneficiary costs, and disease specific hospitalization rates and costs.
CMS has sent medical groups QRUR reports for as long as 4 years – all physicians regardless of group size have access to a mid-year 2014 QRUR report covering July 2013 – June 2014.  In the coming months I'll publish an updated analysis of QRUR Data based on those mid-year reports, but it is already apparent that the ambulatory benchmarks (our comparisons) are improving while LTC Medical Groups remain on the wrong end of the quality measures curve.
Suffice it to say that the #1 measure I look at is the 30-day risk adjusted all cause rehospitalization rate; it is becoming the single most common measure employed by CMS is every program.   Here is a preliminary look at the mid-year 2014 data:
Ambulatory Benchmark
Ambulatory 'Low Quality' Threshold (1 Std. Dev. Above mean)
AVG LTC Med Group*
2012
16.2%
17.4%
18.3%
2013
16.4%
17.9%
17.8%
2013-14
15.9%
17.3%
17.7%
*9 groups in 5 states, ~500 facilities served. Most groups only participated 1 or 2 years
That Quality Benchmarking was what popped into my mind when reading the draft regulations.  They propose adoption of a risk-standardized SNF specific 30-day rehospitalization measure.  This measure is described in a supplemental report prepared by RTI[ii].  The graphic below is extracted from that supplemental technical report: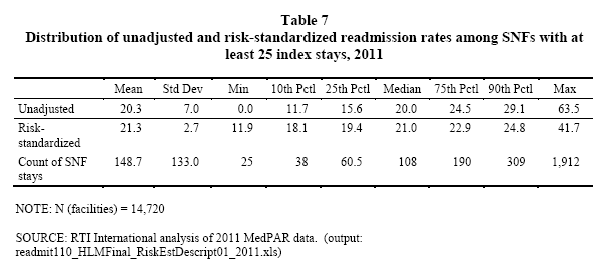 Granted, the risk-standardized median 30 day rate of 21.0% in this CMS table is for 2011, but I think it places the performance of LTC Specialty Medical Groups in perspective.  I know that SNF 30 day rates are dropping[iii], as reported by AHCA, but LTC Medical group data we see, and reproduced above, compares favorably to the general SNF published rates.
As a point of interest, the RTI report discusses the variables it elected to use in creating the risk adjustment methodology.  They specifically rejected considering Medicaid Beneficiary Status as a legitimate adjustment variable (page 26):
"Other facility characteristics associated with higher readmission rates included being a for-profit facility (as opposed to government-run or not-for-profit facility), being a free-standing facility (as opposed to a hospital-based facility), and having a larger proportion of stays funded by Medicaid (Li, 2011). RTI did not adjust for being a for-profit or free-standing facility in the model. The standard of care should not depend on variables such as facility ownership or source of payer."
In my opinion, Medicaid status is a key variable in the quality of care available to a patient.   Facilities that have the ability to be selective in their admission policies, limit or avoid patients with Medicaid.  These individuals almost always have a combination of poor health, few assets, and minimal social infrastructure; that's how they qualify for Medicaid! Those factors make them very difficult to discharge successfully.  The facilities that accept this population are attuned to serving the Medicaid LTC population.  Most state Medicaid programs pay very little compared to Medicare Part A, which limits funds for facility staff.  Low staff levels correlate with increased hospitalization/rehospitalization rates.  Like it or not, the quality of care available is correlated with facility revenue, and facilities that accept Medicaid have lower average revenue/day than those that minimize or avoid Medicaid.
CMS would be wise to consider Medicaid Status in the risk adjustment for all of its performance measures – otherwise providers who serve low income individuals will be unfairly punished.
AMDA (AMDA – The Society for Post-Acute and Long-Term Care Medicine), has taken the lead in petitioning CMS to develop benchmarks specific to physicians caring for the short, and long term, nursing home population.[POS[iv] 31 and POS 32]. Several of these efforts are mirrored by initiatives begun through the SHM (Society for Hospital Medicine).
I'm delighted by the fact that CMS is now proposing to track patient specific measures based on the SNF as a place of service. This provides an ideal demonstration that it is possible for CMS to establish Physician Performance Benchmarks in the same manner.  Wouldn't it be more reasonable to benchmark the Medical Group's 30 Day Rehospitalization rate for attributed patients first seen in POS 31 against the Nursing Home rate for the same time period?
The next blog post will focus on additional Quality and Cost measures in the draft rule that could be adapted to model high quality/cost effective behavior for LTC Medicine.
______________________________________________
[i] Quality and Resource Use Report
[ii] http://www.cms.gov/Medicare/Quality-Initiatives-Patient-Assessment-Instruments/NursingHomeQualityInits/Downloads/SNFRM-Technical-Report-3252015.pdf
[iii] AHCA reports a 2012 risk adjusted rate of ~17.9%; but that is based on MDS data, not CMS hospital claims data.  Short stay patients readmitted from the community are not captured in the numerator.
[iv] POS = Place of Service